Google Buys Finnish Copresence Firm Jaiku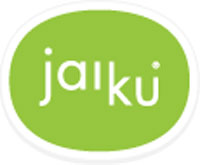 Insanely jealous is how we feel. Jaiku founder, Jyri blogs the news
Jaikido Blog | We're joining Google
.
When going through periods without a hot viral startup project from our stables blitzing up the traffic rankings, we have consoled ourselves by saying well it is so difficult in Europe, fragmented market that it is...blah, blah, blah.
All the while Jyri and his partners had a vision of a community tool for sharing presence. As you would expect in Finland, they team used smartmob fundamentals in the product, and was very mobile phone based. Jaiku is mobile phone oriented version of twitter. It is nicely engineered, though does not have the enthusiast following of twitter.
The team is well versed in the mobile smartmob field. Jyri's presentations are entertaining, conveying ideas with depth and clarity. He is on course, in fact, to single handedly make black cardigans a cool clothing apparel.
While there have been occasional acquisitions in the European tech market, the GYM trio have shopped mostly in the United States. So it is tremendously annoying to have one's complacency shattered so.
Congratulations and best of luck.